So I saw
this
on pinterest and just HAD to have some felted balls!
I bought them off of etsy. I'm kind of an overexcited buyer (notice I didn't say compulsive or impulsive ;)). So, I hurried and bought the "Autumn Harvest Collection" with out looking to see where they were coming from. Well...they came from Hong Kong so I had to wait a little longer than I wanted.
Nevertheless, I bought 60 balls for 20 dollars.
If....no, WHEN I buy them again, I think I'll buy
these
. More balls, better deal, closer location.
I had seen tutorials on how to make them yourself and.......well.......buying them already made for me, seemed a lot easier.
I used about half of the balls to make this lovely autumn harvest garland. I'm saving the other half for a Christmas garland which will consist of red, brown and cream.
Here's what I did:
I took a big needle and threaded some thick dental floss through the balls. They didn't slip around or anything. They were movable if I needed them to be, but otherwise stayed in place.
I'm quite positive that it would be SOOO cute to thread twine through the balls instead, but I didn't have a large enough needle to do that, (there's my excited, have to do it NOW personality shining through again). I'm hoping to be successful with the twine for my Christmas Garland.
I don't know why, but I just think felted balls are so adorable right now. Maybe I'll make something like
this
as well.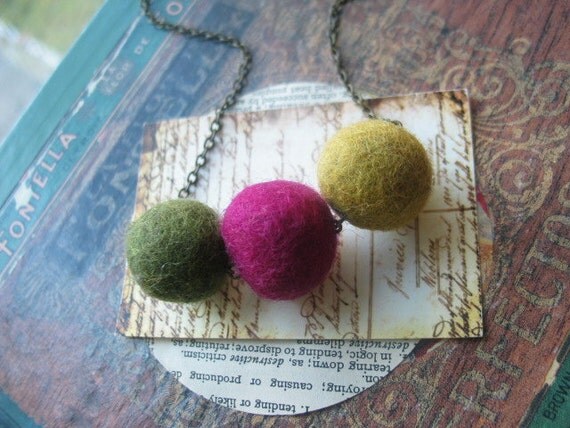 What ya think?